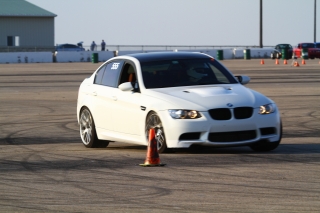 This is one of the finest AutoX events in the Midwest. The large and well planned circuit is perfect for the person just wishing to get started—or for the experienced driver looking for a great venue beyond your local parking lot.
On Saturday June 2nd come experience an AutoX, Flat Out style. Combining the best sections of past national championship courses with national caliber drivers/instructors and a world class facility, we have an outstanding learning opportunity for all levels autocross drivers. Many have wondered about this kind of skilled handling—and here is your chance. It is truly reasonable priced performance driving. Space is limited. We will have more details on how to register for this event.
AutoX Clinic
We will NOT be offering a clinic event this year.
The morning will start with a short tech and tire clinic for those wanting to get familiar with the steps necessary to ensure your car is safe and ready. For others, we will move straight into course drills to work on specific AutoX skills. By mid morning, we will change focus from the individual skills to the overall package and "turn on the timing". Instructors will ride throughout the clinic, encouraging proper techniques, and helping hone skills to improve lap times. Registration in the clinic also get you a slot in the competition.
AutoX Competition
Competition begins after lunch. This is the one event where you can be "timed" to see how you do against yourself at proper speeds, and with no other cars around you. While that's not allowed on the track, it is in AutoX Performance Driving. Several nationally competitive drivers will be competing for FTD (Fast Time of the Day). Space is limited.
And at end of day, don't forget the dinner, Saturday night party, and "bragging rights" that only the AutoX offers.